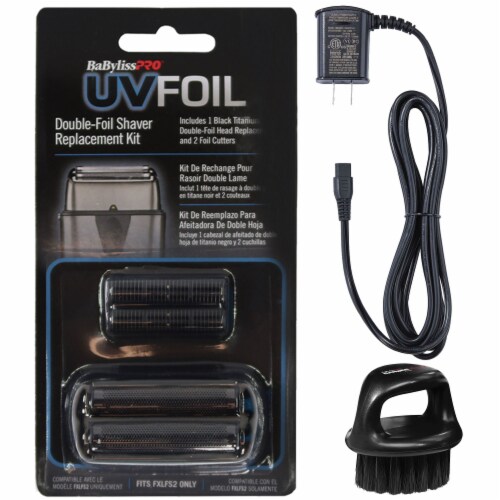 Hover to Zoom
BaByliss Pro UVFOIL Double-Foil Shaver Replacement FXLRF2 with Cord & Neck Brush
Product Details
BABYLISS PRO UVFOIL DOUBLE-FOIL SHAVER REPLACEMENT FXLRF2 + BABYLISSPRO FOIL SHAVER REPLACEMENT POWER CORD CHARGER + FADE KNUCKLE BRUSH
BaByliss Pro UVFOIL Double-Foil Shaver Replacement Kit #FXLRF2
BabylissPro UV Foil Double-Foil Shaver Replacement Kit is designed for use with The BaBylissPRO Double Foil UV Shavers. Fits FXLFS2 Models ONLY.
It's created to preserve the sharpness of blades while cutting hair cleanly. Offers a smooth, close shave without irritation.
Includes 1 Black Titanium Double-Foil Head Replacement and 2 Foil Cutters.
Babyliss Pro Foil Shaver Replacement Power Cord Charger
The FXFSCORD is a replacement cord for all shavers in all colors.
Class 2 Power Supply
9ft Long
Model: CO45120-A
Input 100-240 V
Output: 4.5 V DC, 1200 mA
Models FXFS2 double foil shavers in all colors
BaBylissPRO Barberology Fade Knuckle Brush
Easily clean hair after a fade cut with Fade Knuckle Brush. Super easy-to-grip and ergonomically designed knuckle brushes which fit either the left or right hand. Great for cleaning BaBylissPRO clippers or trimmers too, the nylon bristles are easily cleaned.
This Bundle from TEDS Electronics includes:
BaByliss Pro UVFOIL Double-Foil Shaver Replacement Kit #FXLRF2
Babyliss Pro Foil Shaver Replacement Power Cord Charger
BaBylissPRO Barberology Fade Knuckle Brush
MPN:
FXLRF2-1K
UPC:074108475718
---