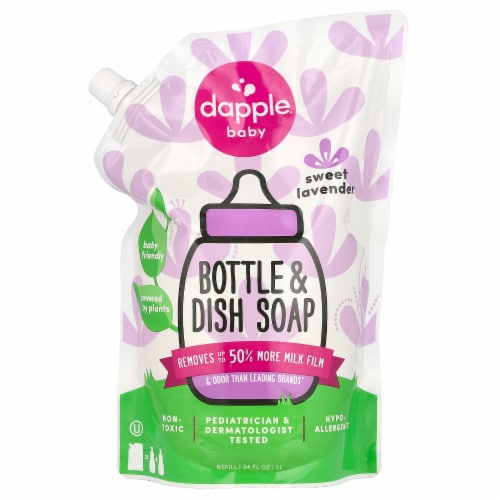 Hover to Zoom
Hover to Zoom
Hover to Zoom
Dapple Sweet Lavender Bottle & Dish Soap
34 fl oz
UPC: 0089224500113
Product Details
Award-Winning Formula for super-clean bottles, sippy cups, pacifiers, breast pump components & toddlerware.
Bonus: Leaves grown-up dishes sparkling too.
A Word from the Experts in Baby-Clean
We are moms on a mission. We were fed up with smelly baby bottles that looked grimy after just a few uses. So we worked with our green scientists to develop a natural formula that binds calcium and other minerals found in baby formula and milk, rinses them away, and leaves bottles, pumps, and all your dishes pure and clear. Happy Cleaning! Love, The Dapple Moms
Did You Know? Natural ingredients alone, while important, may not be baby-safe enough. Many natural cleaners contain allergens and toxic by-products. At dapple, we scrutinize every ingredient, creating cleaners that are not only natural, but also 100% baby-safe. So go ahead: Clean without the worry. We''ve got you covered.
Fast Rinsing • Biodegradable • Free of SLS, SLES, artificial fragrances, dyes, parabens, phosphate, phthalates, 1,4-dioxane, chlorine, formaldehyde, and alcohol.
---