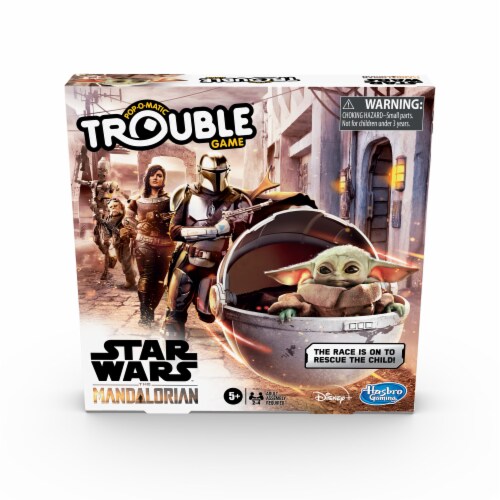 Hover to Zoom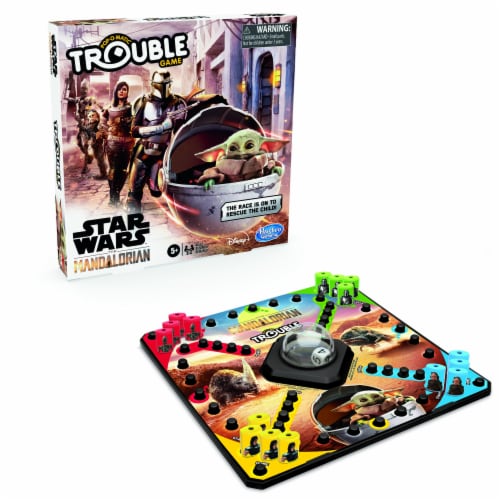 Hover to Zoom
Hasbro Trouble: Star Wars The Mandalorian Edition Board Game
Product Details
THE MANDALORIAN TROUBLE Inspired by The Mandalorian live-action TV series on Disney Plus, this edition of the Trouble game combines Trouble gameplay with The Mandalorian adventures. Imagine racing around a dangerous planet in the outer reaches of the galaxy to rescue The Child, the adorable character Star Wars fans often refer to as Baby Yoda. The first player to get all 4 of their pawns to the Home space to rescue The Child wins! This Trouble game makes a fun choice for Family Game Night and it's a great gift for Star Wars the Mandalorian fans, ages 5 and up. Star Wars products are produced by Hasbro under license from Lucasfilm Ltd. Hasbro Gaming and all related trademarks and logos are trademarks of Hasbro, Inc.
Depending on the number shown on the die, players might be blocked by an angry mudhorn, fight off mercenaries, or receive a handsome reward
Choose to play as bounty hunter The Mandalorian, IG-II the droid, the skilled warrior, Cara Dune, or the vapor farmer, Kuill
Pop the Pop-O-Matic die roller and move the character pawns around the board. The race is on to rescue The Child -- the character often called "Baby Yoda"
Includes: plastic game unit base with Pop-O-Matic die roller, cardboard gameboard insert, 16 plastic character pawns (four of each color), label sheet, and instructions.
---