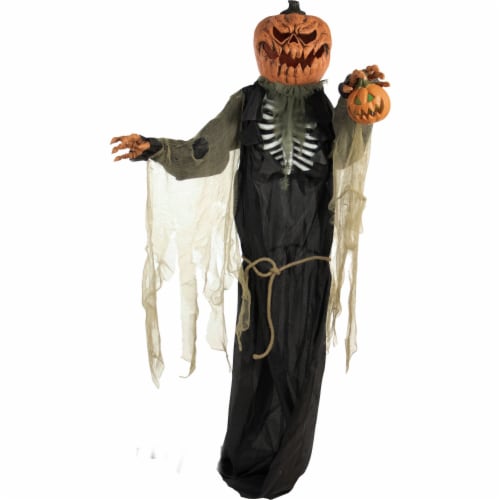 Hover to Zoom
Haunted Hill Farm Animatronic Pumpkin Man Halloween Decoration
Product Details
Jacko is a beast like no other. Cursed many years ago, Jacko lives for eternity in half man, half pumpkin, form. Determined to scare any who stumble upon him, he greets visitors with creepy phrases and alarming shouts. Jacko's large pumpkin head lights up red as the smaller pumpkin clutched in his hand flashes an array of multi-colors. His torn black cloak exposes his white bony rib cage, one of the only signs of Jacko's humanity. Even his skeleton fingers are a shade of pumpkin-orange. The menacing creature can be suspended from his hanging loop or propped on his stand to tower over victims anywhere. Be wary as you approach him.
7 ft. animatronic pumpkin man for indoor and covered outdoor display
Jacko is touch activated
Upbeat voice greets visitors with four frightening phrases
Phrase 1: "Surprise! It's party time."
Phrase 2: "Ooooo. It's time for some fun now."
Phrase 3: "OOOO! Scared yah, didn't I?"
Phrase 4: "Yahhhhh! Didn't see that coming."
---