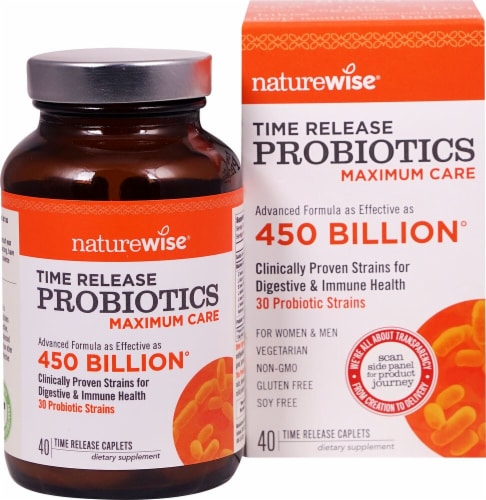 Hover to Zoom
Naturewise Maximum Care Probiotics
40 Time Release Caplets
UPC: 0085808100627
Product Details
Maximum Care Probiotics
High Potency, High Diversity Formula
A rich diversity of probiotic species in the gut is key to maintaining a healthy digestive system, immune system, nervous system, and more. But those friendly microbes can easily become depleted by common hazards of modern life such as stress, poor diet, environmental toxins, and certain medications. NatureWise Maximum Care Time Release Probiotics is intelligently formulated with 30 different strains backed by clinical research, including Lactobacillus, Bifidobacteria, Pediococcus, Enterococcus and Streptococcus, to help replenish and rebalance the microbiome for optimal digestive, immune and overall health,
Wisebiotics® Advanced Caplet Technology
Up to 95% of standard probiotics are destroyed by harsh stomach acids before they ever reach their targeted destination. Our advanced WiseBiotics® caplet technology delivers 15x more live, active cultures safely to the gut, where they are steadily released over 8-10 hours for all-day benefits. This makes our Maximum Care formula with 30 billion CFU as effective as a 450 billion CFU product.
Acid Protection
Time Release
For Women & Men
Vegetarian • Non-GMO • Gluten Free • Soy Free
Live Healthy. Live Happy.
At NatureWise we believe that when you increase health & happiness in the world, it benefits everyone. From our products and customer support to the way we give back, it''s all part of our mission to help people live healthier, happier lives.
*These statements have not been evaluated by the Food and Drug Administration. This product is not intended to diagnose, treat, cure, or prevent any disease.
---