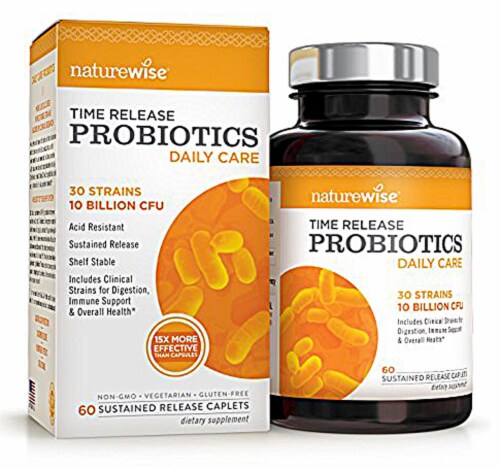 Hover to Zoom
Naturewise Time Release Daily Care Probiotics
Product Details
Daily Care Probiotics
More Live Cultures
More Diverse Strains
Backed By Clinical Research
A diversity of probiotic species in the gut is key to health and wellness, but that balance can be disrupted by everyday stress, poor diet, environmental toxins, and some medications. Carefully formulated with clinically proven strains and select prebiotics, NatureWise Daily Care Probiotcs contains 6 billion CFU and 30 targeted strains to help replenish the beneficial flora in your gut for optimal health.
Wisebiotics™ Delivery System:
Stomach acids can destroy up to 96% of standard probiotics before they every reach the lower GI tract. Our WiseBiotics delivery system ensures that your probiotic caplet survives transit through corrosive gastric acids, but it will continue to deliver a controlled release of live, active cultures over an extended period of time, throughout your large and small intestines, for optimal health. With its unique sustained-release caplet technology, our WiseBiotics™ delivery system works smarter than standard probiotic capsules or softgels to protect and deliver 15 times more live cultures to their targeted destination.
»Gastric Acid Protection
» Sustained Release
» Heightened Potency
» Shelf Stable
Live Healthy. Live Happy.
At NatureWise we believe that when you increase health & happiness in the world, it benefits everyone. From our products and customer support to the way we give back, it''s all part of our mission to help people live healthier, happier lives.
*These statements have not been evaluated by the Food and Drug Administration. This product is not intended to diagnose, treat, cure, or prevent any disease.
---