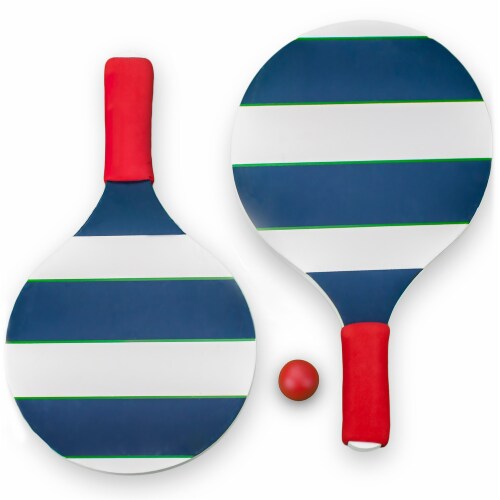 Hover to Zoom
Product Details
The ultimate beach game--no net, court, or field required!
Paddleball, sometimes called Kadima, is a simple game in concept: don't let the ball touch the ground. And that simplicity is why it has become the ultimate beach game. It's a little like ping pong, except there's no table, court, or net--just your paddle, your opponent's paddle, and the unpredictable bouncing ball. Can you work together to keep it off the sand? A great source of aerobic exercise, you'll run, jump, dive, anything to keep the rally going. Get ready to react, because you'll need all your reflexes firing in a fast-paced game of paddleball!
Why You'll Love It: Our paddleball set comes with a pair of striped paddles that measure 15" in length with a 9" diameter of usable hitting surface. We've also wrapped each handle in a layer of grippy comfort foam so long play sessions are easier on hands. Best of all, the whole set comes in its own carrying case that makes transport and storage a breeze. No need for replacement balls here!
---