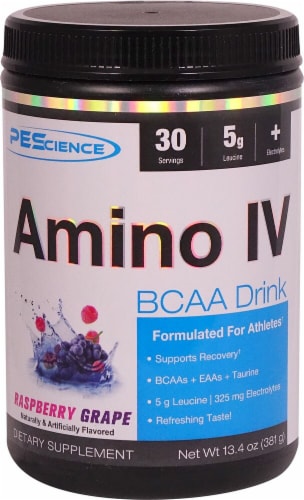 Hover to Zoom
PEScience Amino IV Raspberry Grape
Product Details
Beyond Just Another BCAA
We live in a day and age in which optimizing performance, recovery, and results are integral to every meal we eat and supplement we consume. We don't just consume post-workout protein and call it a day. We've learned from science that taking separate, free-form amino acids can give you an extra edge to take your progress to the next level.
Amino IV: A BCAA product with added benefits to take it beyond just another BCAA.
You spend all the time and money working hard and eating right. Why sell yourself short on your essential supplements?
Leucine Loaded - The King BCAA
How much leucine does your amino product contain?
Amino IV packs 5 grams of leucine per serving, putting it in the top 1% of amino acid products on the market. In fact, you would have to double-dose most BCAA/Amino products in order to get the same leucine content.
We don't mess around with Amino IV -- 5 grams of leucine per serving, and 30 servings per bottle makes Amino IV a cost effective leucine source.
---