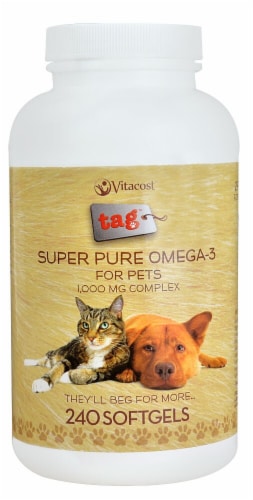 Hover to Zoom
Vitacost - Tag Super Pure Omega-3 for Pets
1000 mg - 240 Softgels
UPC: 0084419701144
Product Details
1,000 mg fish oil concentrate
300 mg omega-3 essential fatty acids
May be punctured and liquid mixed with pet's food
240 softgels per bottle
Omega-3 essential fatty acids are essential for health—yet, like people, pets can't make these important nutrients on their own; they must be obtained through diet.
Unless Fluffy's and Fido's kibble is rich in fish or flax, chances are your furry friend's diet is lacking. Dish out the omega-3s they need with Vitacost® tag™ Super Pure Omega-3 for Pets.
With no artificial colors, flavors or dyes, these natural softgels deliver 1,000 mg of fish oil concentrate, swimming with 300 mg of essential fatty acids.
Is your pet picky about pills? Just puncture and pour the liquid into his food for supplementation without struggle!
2 Paws Up for Rescued Pets
"We considered adopting a second dog, but weren't sure if we wanted a puppy. That is, until I spotted this little guy. His foster family was far away, but that didn't stop us from making the almost 700-mile round trip to bring him home. He is the happiest little dog, and now our family feels complete."
--Eveline
After hearing this story from Eveline in Cumberland County, New Jersey, Vitacost® is proud to have made a donation to an animal shelter in her area.
About Vitacost
Vitacost nutritional products are manufactured to high standards of quality, efficacy and safety. Each Vitacost product meets or exceeds the standards and requirements set forth in the FDA's Code of Federal Regulation (21 CFR, 111) Current Good Manufacturing Practices (cGMP).
---