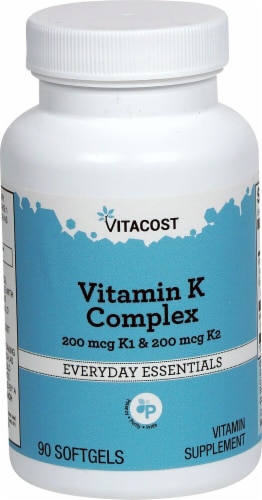 Hover to Zoom
Vitacost Vitamin K Complex with K1 & K2
Product Details
What is Vitamin K Complex?
Vitamin K Complex features a combination of vitamin K1 and vitamin K2. Vitamin K refers to a family of fat-soluble compounds known as quinones. Vitamin K1 (phylloquinone) is the natural form, found in green leafy vegetable such as spinach, kale and broccoli, as well as in green peas, carrots, soy beans, eggs, liver and dairy products. Vitamin K2 (menaquinone) is produced by bacteria in both animal and human intestines.
What are the key benefits of Vitacost® Vitamin K Complex with K1 & K2?
Vitamin K's primary function in the body is to aid in the production of GLA (gamma carboxyglutamic acid) proteins, which play a part in coagulation and anti-coagulation of blood.*
Vitamin K is also necessary for osteoblasts (bone-forming cells) to activate osteocalcin, a protein that binds calcium to bones.* Therefore, adequate amounts of vitamin K make certain calcium is properly delivered to bones and arterial health is maintained.*
Why is Vitacost® Vitamin K Complex with K1 & K2 your everyday essential?
Supports multiple areas of health, including bone health and cardiovascular health, in one easy-to-take supplement.*
Provides optimal amounts of vitamin K including 200 mcg of vitamin K1 and 200 mcg of vitamin K2.
Vitamin K2 is derived from the fermented Japanese soy food, natto.
Delivered in a medium-chain triglyceride base. Medium chain triglycerides are essential fatty acids naturally found in milk fat, palm oil and coconut oil that may help with the digestion of fat-soluble vitamins.*
Potency • Purity • Pride
*These statements have not been evaluated by the Food and Drug Administration. This product is not intended to diagnose, treat, cure, or prevent any disease.
---