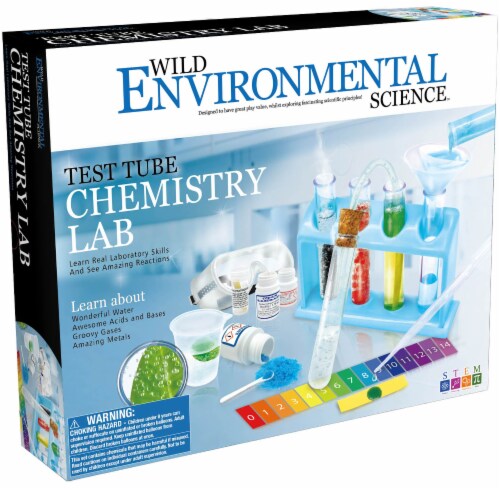 Hover to Zoom
Wild Environmental Science Test Tube Chemistry Lab Kit
Product Details
Welcome to the wonderful, chemical world of molecules, solids, liquids, gases and reactions! This chemistry kit includes 50+ experiments that are designed for kids aged 8+ (adult supervision is required). They will be fascinated by the real, authentic science in this kit as they watch chemicals react and learn how the same reactions occur in the world around them. Kids will conduct experiments to learn about density, diffusion, emulsion, pH, invisible gases and reactions involving the metals Copper and Zinc! They will also create their own lava lamp, magically clean coins and learn how cakes rise… the powerfully informative full-color booklet included provides all the answers.
Includes: Sodium Bicarbonate, Citric Acid, Copper Sulfate, Universal Indicator Strips, Beaker, Test Tubes and Stoppers, Cork Stopper with hole, Test Tube Rack, Plastic Tube, Syringe, Pipettes, Flexible Tube, Safety Goggles, Lab Gloves, Liquid Color, Candle, Wool and Small Vial, Balloons, Funnel, Filter Paper, Piece of Zinc, Scoops, Workbench and Instruction Booklet. Components come in resealable containers. Some household items are also required, such as dishwashing liquid, ice cubes and table salt.
Step-by-step starter activities guarantee success. Learn basic skills such as measuring with a pipette before conducting the experiments.
Discover how scientists use green chemistry to measure chemical gasses in the air, create eco-friendly chemicals, generate electricity and more!
They will create a test tube lava lamp, solid Copper metal, climbing water, dyed wool, invisible gas and much more.
---