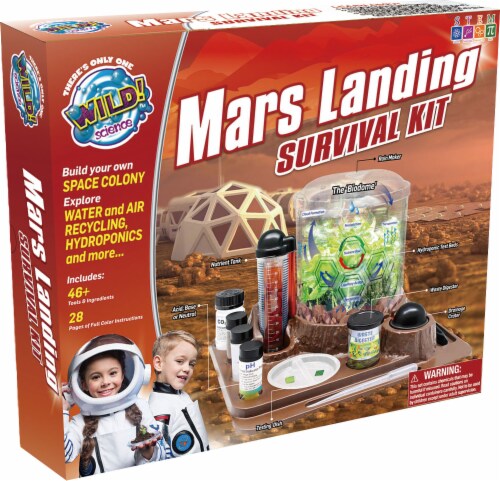 Hover to Zoom
WILD! Science Mars Landing Survival Kit
Product Details
Mars doesn't have water and the air is unbreathable. That makes human survival a little complicated. This science kit teaches kids how plants create oxygen and fresh water!vThe International Space Station Mars Program simulates Martian agriculture. This kit could inspire your child to work at NASA or be the first to venture the Red Planet! After children complete their own plant-filled biodome, they will love to plant seeds and witness germination. Plant radishes, chickpeas, beans and more! Children will test plant nutrients, clone food and check for UV radiation! Ever wonder why we couldn't have fossil fuels on Mars? Experiment to find out! For ages 8+.
Help kids build a colony on Mars! Build a biodome, make Martian soil, create a mini compost and learn how food would grow on the Red Planet. SEEDS NOT INCLUDED.
Kid-friendly, full-color instruction booklets. Each step in the booklet comes with an illustration to show exactly what needs to be done!
---