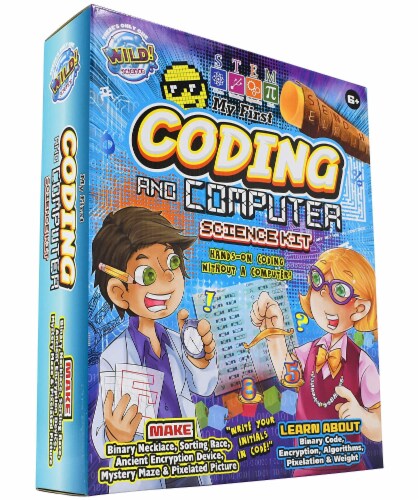 Hover to Zoom
WILD! Science My First Coding and Computer Science Kit
Product Details
Introduce coding, communication and other computer concepts with this easy-to-use, entertaining and informative science kit for children aged 6+! Designed to be a fun, hands-on experience for kids. Teach coding, encryption and data sorting concepts by using real objects, without a computer or app. First, kids will learn the concept with a hands-on, guided activity, and secondly, they will create their own, unique binary necklace, sorting race, ancient encryption device, mystery maze and pixelated picture.
Includes: 1 Necklace, Digital (Binary) Beads, 1 Sorting Tray, 1 Seesaw Balance, 1 Plastic Tube, 2 Paper Strips, 10 Clip Jars, Stickers, Spoon, Sand, 3 Plastic Sheets, 200 Colored Beads, Pixel Board, Tweezers and Education and Instruction Booklet.
No screen time required! Everything you need is included in the box.
Components come in resealable containers and bags and can be used again and again.
Step by step starter activities guarantee early success. Children can then use their creativity to work on more open activities for each concept.
Kid-friendly, full-color instruction booklets. Each step in the booklet comes with an illustration to show exactly what needs to be done!
---