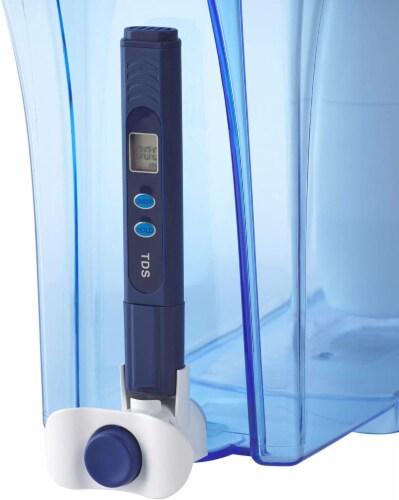 Hover to Zoom
Zerowater 23-Cup Water Dispenser with Filter
Product Details
Included Components:
Zerowater Zd-018 23-Cup Water Dispenser And Filtration System
Electronic Tds Water Testing Meter
1- Zerowater Filter Cartridge That Removes Contaminants That Cause Water To Have An Unpleasant Taste
Total Dissolved Solids (TDS) refer to minerals, salts, metals including lead, chemicals, fluoride and runoff polluting your drinking water. ZeroWater Technology is the only water filtration system to remove 99% of TDS, equivalent to TDS in purified bottled water. Get more out of your water with ZeroWater's Premium 5-Stage Water Filtration.
Stages:
Stage 1 - Removes suspended solids such as dust and rust that make your water appear cloudy
Stage 2 - Removes additional suspended solids
Stage 3 - Removes organic contaminants; Mercury, Chlorine, Chloramine
Stage 4 - Removes inorganic compounds i.e. metals, nonmetals and radiological contaminants. Stage
Stage 5 - Removes remaining suspended solids, holds the resin in place
---